Xerox Copier Repair Austin, TX
We are the specialists for Xerox copier repairs in Manor, Round Rock, Cedar Park and all other areas near Austin, TX. Businesses throughout Austin trust us to service, repair, and maintain their Xerox copiers. There are no Xerox copier problems our certified techs can't fix, from paper jams to poor print quality to connectivity issues. At The Printer Repair Group of Austin, TX, we're committed to providing the best copier services for your business.
Trusted Service
We are proud to be the preferred support provider of the following companies.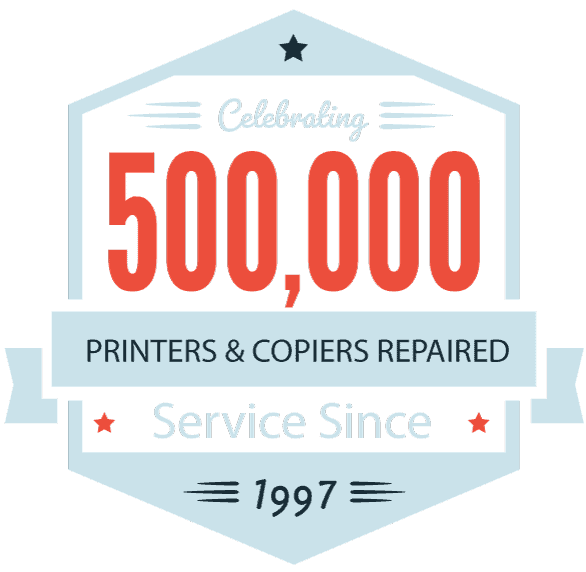 More than 500,000 customers throughout the US have trusted our certified copier repair techs. If you need help with a Xerox copier near Austin, TX, contact The Printer Repair Group of Austin, TX today!
Austin's Xerox Copier Repair Guys
The Printer Repair Group of Austin, TX is the company to call for fast, reliable Xerox copier repairs. We have repaired Xerox copiers for 28-years in Austin. Our certified copier techs can help your business extend your Xerox copier's life and ensure your documents look clean and crisp at all times. Scheduling service is easy; call us at (512) 337-3416.
We provide fast, affordable Xerox copier service for businesses in Manor, Round Rock, Cedar Park and all other areas near Austin, TX.
Xerox Copier Repairs and Service
Xerox makes one of the best copiers for business use, but even the most reliable copier will occasionally break or need service. Misuse, lack of maintenance, or normal wear and tear will eventually lead to Xerox copier problems. You have invested a lot in your Xerox copier; therefore, you should only trust the qualified copier repair techs at The Printer Repair Group of Austin, TX to service your Xerox copier properly. Call (512) 337-3416 to schedule service today.
Xerox Copier Maintenance
Is your Xerox copier showing signs of wear? Maybe your copies aren't clean and crisp, or your documents are wrinkled. If you're having these or any other problems with your Xerox copier, give us a call. Regular maintenance is essential to keeping your Xerox copier in good working condition like any device with moving parts. The Printer Repair Group of Austin, TX can provide routine maintenance and help prolong your Xerox copier's life.
Xerox Copier Replacement
The Printer Repair Group of Austin, TX works with businesses to maintain and repair their copiers, but what happens when your copier is beyond repair? Sometimes, it just doesn't make sense to repair an older copier that has seen extensive use. Maybe parts are no longer available, or perhaps the repair cost will exceed the copier's value. If repairing your copier isn't the best option, we can help you upgrade and show you the latest available copiers that suit your needs and budget. A new copier may even cost less to run than your old one.
Google Reviews
See what others have to say about The Printer Repair Group.
Cliff was incredibly efficient and helpful! Trustworthy services and great value, our clinic will definitely be using Cliff as our sole repair tech from now on!
I spoke with Rick this past week while inquiring about the Printer Repair Group's (PRG) services. Although my needs would be better suited elsewhere, Rick kindly gave his professional opinion as he went above and beyond a simple answer to my question by advising with several routes to take in solving my problem. Respectful, informative, and helpful, the PRG staff made sure all my needs were met before disconnecting.
Our office printer was jamming constantly (literally every time we tried to print anything). PRG was quick to respond and send a tech out to service it–he was able to determine the issue, and their team was able to source and install the replacement piece that fixed the issue. I'd highly recommend them to anyone in need of printer repair services!
Thanks Travis . Really nice to communicate with someone who really cares about the choice we make in printers. I dont have to guess. Trsvis took the guesswork out of the equation. Thanks again!!
Frequently Asked Questions
Do you have a question about Xerox copier repairs in Austin? Check out the Frequently Asked Questions below. If you still need help, call (512) 337-3416 to speak to one of our friendly copier support specialists.
Xerox Copier Models that We Repair and Service
We repair the following models of Xerox copiers. However, if you don't see your model, give us a call at (512) 337-3416 to speak with one of our friendly copier support specialists.
WorkCentre 250
WorkCentre 133
WorkCentre 232
WorkCentre 245
WorkCentre 265
WorkCentre 385
WorkCentre 390
WorkCentre 450c
WorkCentre 450cp
WorkCentre 470cx
WorkCentre 480cx
WorkCentre 490cx
WorkCentre 3025
WorkCentre 3045
WorkCentre 3210
WorkCentre 3215
WorkCentre 3225
WorkCentre 3315
WorkCentre 3335
WorkCentre 3550
WorkCentre 3615
WorkCentre 3655
WorkCentre 3655i
WorkCentre 4118
WorkCentre 4150
WorkCentre 4250
WorkCentre 4260
WorkCentre 4265
WorkCentre 5020
WorkCentre 5022
WorkCentre 5030
WorkCentre 5135
WorkCentre 5222
WorkCentre 5225
WorkCentre 5325
WorkCentre 5632
WorkCentre 5645
WorkCentre 5665
WorkCentre 5735
WorkCentre 5765
WorkCentre 5845
WorkCentre 5865
WorkCentre 5865i
WorkCentre 5945
WorkCentre 5945i
WorkCentre 6015
WorkCentre 6025
WorkCentre 6027
WorkCentre 6400
WorkCentre 6505
WorkCentre 6515
WorkCentre 6605
WorkCentre 6655
WorkCentre 6655i
WorkCentre 7120/7125
WorkCentre 7132
WorkCentre 7220
WorkCentre 7220i
WorkCentre 7232
WorkCentre 7328
WorkCentre 7425
WorkCentre 7525
WorkCentre 7655
WorkCentre 7755
WorkCentre 7830
WorkCentre 7830i
WorkCentre 7970
WorkCentre 7970i
WorkCentre 7970i
WorkCentre C2424
WorkCentre M15
WorkCentre M15i
WorkCentre M20
WorkCentre M24
WorkCentre M35